From the Principal
Weekly notes from Arbor Heights Elementary School
ARBOR HEIGHTS ELEMENTARY SCHOOL
3701 SW 104TH
SEATTLE, WA. 98146
281-6230

PARENT BULLETIN
June 6, l996


This Parent Bulletin is rather long, but there is a lot of news to share as we approach the end of the school year. I hope you will take a few minutes and read all of the information.
THANK YOU VOLUNTEERS!
Yesterday we hosted our annual "Thank You Luncheon" for all of our volunteers. About 85 of you came and I wanted to share the appreciation of the entire staff to those of you who helped us out this year, but were unable to attend yesterday. You really made a positive difference in our school this year!
STAFFING CHANGES FOR NEXT YEAR
Below is a summary of the staffing changes that we are looking at for next year. A list of teachers, by grade, is attached to this bulletin.

Grade 5 - Sandra Haas is coming to us from High Point to replace George Wagner who is retiring.
Grade 4 - Doug Swan is coming to us from Dunlap to replace Patti Luke. Ms. Luke is moving into our Chapter I position to replace Joan Voorhees who is retiring.
Music - Barbara Bailey is coming to us from John Hay and Coe to replace Kate Cronon who has been promoted to a consultant position and Chris Mabe who was on a one year contract.
Special Education - Mary Clark is coming to us from Coleman to replace Nicky Hays-Amodeo who was elected vice president of the Seattle Education Association.
Secretary - We will be interviewing soon to replace Val Kingman who is retiring.
Chapter I - We are losing some Chapter I Instructional Assistant positions and a .5 teaching position (occupied by Gretchen Thompson) because of funding cuts, but we are hopeful that these will be restored over the summer.

We have some good new people coming to our school, but it will be impossible to replace the likes of Mr. Wagner, Ms. Voorhees, Ms. Cronon, Ms. Mabe, Ms. Hays-Amodeo and Ms. Kingman. They will all be missed.
WELCOME TO THE ARBOR HEIGHTS COMPUTER LAB!
We will be opening our new computer lab for a sneak preview next week. Parents are invited to come by and try out Windows 95, word processing, many CD-ROM titles and the Internet. We will have the lab open from 4:00 - 7:30 on Monday, June l0, Tuesday, June ll, and Thursday, June l3 (no Sonic game days!) The lab will be open to the community next fall. We just wanted to give Arbor Heights parents a first look! So stop by and see what we will have to offer. Many thanks to Microsoft for making this possible! At the end of this bulletin is an R.S.V.P. sheet. Please return it if you're planning to come. Thanks.
GOOD NEWS
Our school was selected along with l8 other elementary schools to be part of the hands-on science program in Seattle Public Schools. Beginning in September of l996 your child will learn science by formulating questions, figuring out and testing solutions and drawing conclusions. The new elementary science curriculum is not text-based. Instead, it is contained within l8 science kits that promote hands-on, inquiring-based learning. This curriculum is child-centered and will provide your child with exciting science experiences that extend their natural fascination with the world and help them learn the science skills and concepts they will need in later schooling and life. Scientists and Science Resource Teachers will assist in a 30 hour training session which will enable the teachers to use these new science materials. The August training is the kick off of a two-year staff development program that eventually will see all Seattle teachers trained in this new approach to teaching science. The training is being funded by a $4.2 million grant from the National Science Foundation and a $l.4 million match from the school district. The grant is the result of a partnership between Seattle Public Schools, The University of Washington, The Boeing Company and Fred Hutchinson Cancer Research Center, scientists from all of which will participate in the training.
SONICS DAY JUNE 12TH
The Seattle Sonics have been very supportive of Seattle's reading campaign this year. Now the kids at Arbor Heights want to be supportive of them. On Wednesday, June l2th, we will have Support Our Sonics day at school. Kids may wear basketball jerseys, hats, or dress in Sonic colors. Hopefully our efforts will lead to a win in Game 4.
1997-98 STUDENT ASSIGNMENT PLAN
Members of the Seattle staff and community will be asked to reflect on and provide input on four options for the assignment of students to Seattle Public Schools during community meetings to be held in five different areas this June. Small "focus group" meetings are also being held with various community and staff organizations.

The community meetings are scheduled from 7:00 - 8:30 p.m. on:

	June ll - Gatzert School, l30l E. Yesler Way
	June l2 - Gatewood School, 4320 SW Myrtle St.
	June l2 - West Woodland School, 560l 4th Ave. NW
	June l3 - Hawthorne School, 4l00 39th Ave. S.
	June l3 - BF Day School, 3921 Linden Ave. N.

A Saturday forum will also be held from l0:00 - ll:30 a.m. on June l5 at Thurgood Marshall (Colman) School, 240l S. Irving.

The options under consideration are:
- Controlled Choice, the plan currently in use which divides the district into "clusters" which includes schools in both the north and south parts of the city and includes all-city options.
- Regional Choice, a plan that would permit students to enroll in any school in the region in which they live. Under this proposal, there would be five or six choice regions based on geographic, cultural and historical affinities: Northwest, Northeast, Central, Southeast and Southwest.
- Open Choice, a plan that would enable students to attend any school within the Seattle Public Schools system.
- Neighborhood Choice, in which students would be able to attend their neighborhood school, alternative schools in the region or designated schools (for voluntary racial transfers).

"It is our intention to seek community input on all four options", said John Humphrie, student assignment plan coordinator. "The resulting plan could be a hybrid of all four. At this point, this is our best thinking. We're relying on the public to help us."
LET'S NOT DO THIS AGAIN
The picture below was taken on our playground last year on July 5th. Please spread the word that our school grounds is not a good place for fireworks. Thanks.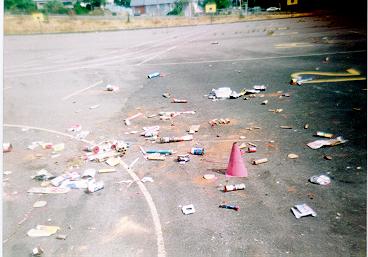 GOLFING ANYONE?
Students from ages 9 - l7 can get a free golf lesson on Sunday, June 9th, at Jackson Park. Call 363-4747 for more information.
KING COUNTY FAIR
I have a number of student tickets (l7 and under) for the King County Fair in Enumclaw this summer. The date is Monday, July l5th. If you'd like some tickets just send me a note.
PARKING PROBLEM
A gentlemen from one of the homes across from our school came in to see me the other day. He leaves for work each day between 3:00 - 3:30. He said that occasionally people block his driveway while waiting to pick up children. I know that space is tight, but please be sure not to park in front of driveways. Thanks.
END-OF-THE-YEAR EVENTS
June 6   - TONIGHT - Instrumental Music Concert - 7:00 p.m.
June 7   - Instrumental music assembly - 9:30 a.m.
June l3  - Seattle Public Librarian to visit all rooms
June l7  - Last student store
June l8  - Field Day
June l9  - Awards Assembly - l:30 p.m.
           5th grade graduation - 2:00 p.m.
June 20  - Last day of school
---
We are planning to come to the computer lab on 

   Monday   Tuesday  Thursday   (circle one)

   We'll arrive around _____ p.m.  There will be _____ people
   attending. 

_____________________       _____         _________________________
Student's Name              Room #            Parent Signature
---
Sincerely,
Carl Leatherman
Principal
---
Return to From the Principal
Return to What's New at Arbor Heights
Return to the Arbor Heights Home Page