To the Skate America Skaters: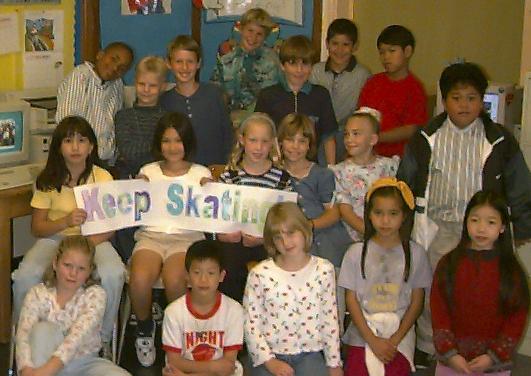 October 3, 1997
Picture from September 25th
The third graders in Room 12 at Arbor Heights Elementary School in Seattle, Washington made a banner to send best wishes and encouragement to the skaters in Skate America. Those skaters are from our neighborhood high school, Chief Sealth, right here in West Seattle. They also had some things to say:
Don't quit, keep skating. - Justin K.

Don't get tired. - Heather

Wish you luck.- Vicha

We wish you luck, don't give up, no matter what, keep your spirits high. - Jessica

Have a nice time. - Sara

Hope you survive all this. - James

I'm so happy that you passed the Mississippi River. - Dao

Don't fall over the Rockies! - Veybol

Be careful of the snakes. - Miranda

Have lots and lots and lots and lots of fun. - Hannah.

Tell us what happens. - TJ

Don't give up! - Corey

Don't quit now, you are almost home! - Evelyn

Don't quit now. - Kara

I hope you make it home soon! - Joe

Don't quit! - Eduardo

I hope that you don't break a leg. - Olivia

Don't quit now, because you're six states away. - Jason

Don't waste your energy, get some rest, and if you feel fully loaded, go out and skate. - Jimmy

I like what you're doing for your school - it encourages little people like me, I like that - some day I will join, and remember, don't give up. - Demario

Comments to Room 12 can go to teacher Mark Ahlness.