Welcome to Arbor Heights Elementary in Seattle, Washington!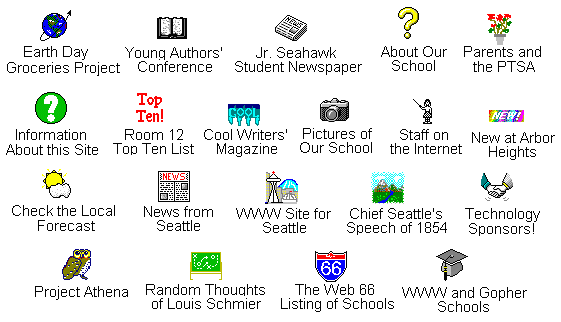 Please address any comments to Mark Ahlness.

Visitors since April 12, 1995.

Earth Day Groceries Project | Young Authors' Conference | Student Newsletter | Information About Our School | PTSA Newsletter | Information About This Site | Room 12 Top Ten List! | Cool Writers' Magazine | Pictures of Our School | Staff on the Internet | Check the Local Forecast | Seattle News | WWW Site for Seattle | Chief Seattle's Speech of 1854 | Technology Sponsors | Project Athena | Random Thoughts of Louis Schmier | Web 66 Listing of Schools | WWW and Gopher Schools

© 1995, Arbor Heights Elementary School
---
June, 1995 - Here was the biggest single change in the two year history of our home page. An imagemap was introduced to replace all the text links with icons. This is the version that Bill Gates used in The Road Ahead. Most of the imagemap links work.

Back to April, 1995 ...... To November, 1995