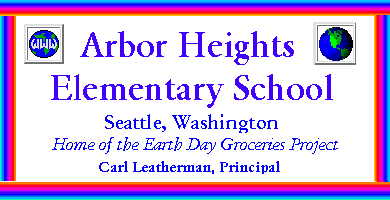 Welcome to Arbor Heights Elementary in Seattle, Washington!
About our school...
New! Cool Writers' Magazine
Young Authors Conference
Staff on the Internet
The PTSA Newsletter
The Student Newsletter
Information about our school
The Earth Day Grocery Bag Project
The Room 12 Top Ten List!
Pictures of our school
About our city...

Is it always raining in Seattle?
City News
World Wide Web site for Seattle
Check the current local forecast
A beautiful picture of our city
Chief Seattle's speech of 1854
Educational Resources
Project Athena
The Random Thoughts of Louis Schmier
Other K12 schools on the WWW...
Schools with WWW and gopher sites
The Web 66 Listing of schools on the WWW
Can you find your city on the World Wide Web?
World Wide Web sites for cities around the world!
World Wide Web sites for U.S. cities
---
Information About This Site
Our Technology Wish List
---
Our school is very proud to be featured on America Online's listing of recommended Educational sites on the World Wide Web! Here is a picture of that listing on the AOL World Wide Web browser: (74k .gif image)

---
You may also access the Arbor Heights Page on the server at Nathan Hale High School in Seattle. The URL is: http://hale.ssd.k12.wa.us/arborhts/arborhts2.html. Page prepared by Mark Ahlness, third grade teacher. If you encounter problems here, please address comments to: mahlness@cks.ssd.k12.wa.us
---
October, 1994 - This was how the site looked through most of the 1994 - 1995 school year. Oh, a few little icons were added or removed from time to time....

Back to August 14, 1994 ...... To January, 1995